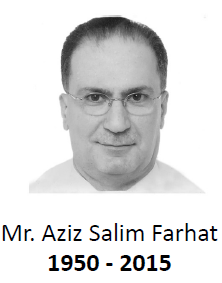 About Our Founder
Our wholly family owned and run group of  companies was founded by Mr. Aziz Salim Farhat with a view of offering reputable goods and services in a boutique setting. His ethos, which continues to this day, was complete transparency and unequalled customer service all within a framework of close interpersonal relationships with customers, suppliers and staff.
We are proud to continue to offer the same unsurpassed service and customer support which has become an unbreakable tradition within our companies and is the pillar, we believe, of our continued growth and success. It gives us great pride to continue the wonderful legacy and vision bequeathed to us by our
beloved founder which we both hold dear and will continue to honor.
CORE VALUES
Complete transparency at every stage of our process. Offering the best brands at the best available prices to our customers.
VALUE PROPOSITION
We believe that it is precisely because we are a boutique business that we can offer a more personalised service combined with the willingness and ability to tailor our offerings to your requirements. It also allows us to build up close personal relationships with each individual client.
MISSION
We have served, and will continue to serve, the regions where we are active with vigour, enthusiasm and to the best of our ability. We shall strive to maintain the utmost levels of professionalism, courtesy and availability.
VISION
To continue offering the same unparalled level of service and commitment to our existing customers and to continue expanding our customer base whilst retaining levels of service.